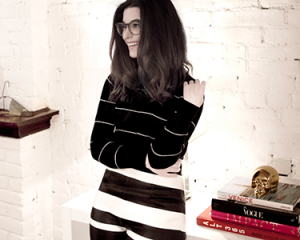 As the granddaughter of Grace Kelly's personal clother, it's easy to see a sense of history in Katie Ermilio's clothes.
From the iconic green jacket her grandfather designed for Augusta's Masters Tournament, to the Eisenhower jacket he created for World War II, Katie's legacy has inspired not only her love of fashion, but aslo the garments she creates. Designing clothes from the time she was 12, Katie continues to draw on the heritage that shapes her work.
At 27, a life-long education in textiles and tailoring acquired in her father's custom clothing shop acquainted Katie with the principles of construction and fundamentals of design. Infusing each distinctly feminine piece with sharp tailoring and soft drape, her clothes embody the modern interpretation of timeless dress.
Today, Katie's work has been featured on TEEN Vogue's very pages and in publications ranging from The Wall Street Journal to LUCKY Magazine, Women's Wear Daily, Marie Claire, and British Vogue. The New York Times Style blog, The Moment, ELLE.COM, and Fashionista have each highlighted her collections and career in design.